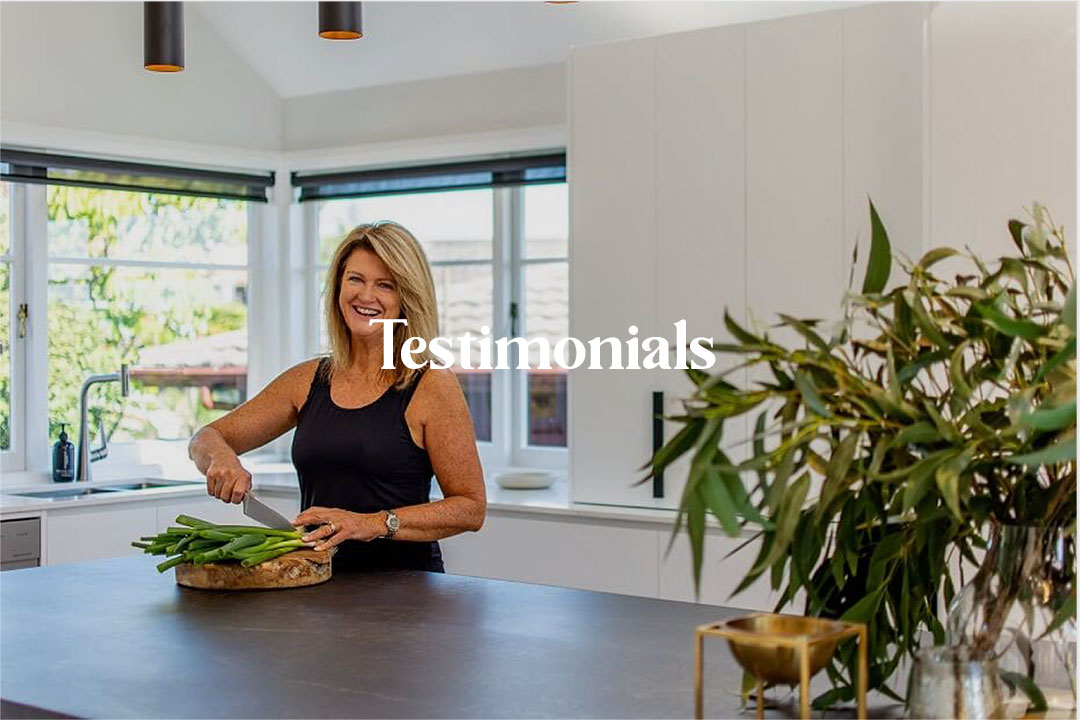 "We are delighted with our new kitchen from Kitchen Vision. Right from the initial consultancy with Justine, through to the very professional installation, the whole process was seamless. What a nice company to work with.
Justine's design expertise was much appreciated. We are delighted with the attention to detail and the finish of the completed kitchen. We would have no hesitation in recommending anyone in using Kitchen Vision for their new kitchen."
"We couldn't be happier with our new kitchen from Kitchen Vision.  Ashlee our Design Lead listened to what we were hoping to achieve and came back with a design which far surpassed what we had considered when we were entered into the process.  Prior to kick off we had a number of meetings to really work through the detail of the design, meaning that by the time we came to the installation we knew exactly what was happening and where everything was going.  
Throughout the process I felt confident in Ashlee's design expertise and that she understood us and our needs.  She was responsive to our many, many questions leaving us confident that we were in safe hands.
The product itself is fantastic, looks amazing and functions exactly as we had hoped it would, it's totally changed the way that we use the space. Interestingly we have all observed how similar the end product looks to the original renders which speaks to the great design! 
 I wouldn't hesitate to recommend Ashlee and the team at Kitchen Vision."
"It was a total pleasure working with Ally and the Team from Kitchen Vision. Ally listened to everything we wanted in our kitchen design, she went above and beyond to ensure that our design was exactly how we wanted it, sometimes I think she was more excited than us! Her enthusiasm is certainly infectious. Nothing was ever a problem no matter how many times we wanted to change things up. I have recommended the team to two of my family and friends who have also used them. Would highly recommend if you want a kitchen design that is timeless and you will fall in love with it again and again, everyday."
We are thrilled with our new kitchen and would recommend Kitchen Vision to anyone.
We received clear communication throughout the process and we believe our kitchen is of good quality for what we paid. Thank you Justine and team for working with us to make our kitchen dream come true.
We are delighted with our new kitchen in our Devonport home, designed and installed by Kitchen Vision.
The whole process has been collaborative, with their designer combining her creative skills, while listening and taking on board our special requirements.
The end result is a beautiful, practical kitchen with integrated appliances giving a simple, modern look which has enhanced our whole family living space.
Prior to this Kitchen Vision has designed and installed our laundry, two bathroom vanities and a living room unit, including a gas fire.
We have been thrilled with the superb finish and attention to detail on each occasion.
Our experience with Kitchen Vision has been awesome. From initial design to the final touches the communication was timely, the team was professional and meticulous, and the product met or exceeded our expectations.
The Vision we developed together for our kitchen was delivered. The KV team acted as partners in our mutual goal of creating the kitchen experience we wanted. The customer service was superior in all respects.
It is my pleasure to recommend the professional team at Kitchen Vision.
I personally had a difficult time making some decisions re design and what I wanted in a new kitchen. My 1979 architectural/retro home was still original and I wanted to carefully keep with the that period of time in a sensitive manner. I did not want a kitchen that stood out as different but one that blended and belonged with that era yet gave me the practical aspects and the joy a new kitchen promises.
Nigel and the team especially Kate Gardham, had to contend with an indecisive client. They were patient, supportive and considerate towards me which I needed and was thankful for. I changed my mind more than once and they went with the flow drawing on their years of knowledge and experience giving me thoughtful suggestions till I was satisfied.
Kate was inspirational a number of time sharing her ideas, that in hindsight I have appreciated.
It was during the covid months the installation was executed and skilfully at that. The team communicated well, being mindful of any date changes always bringing me up with the play and when necessary provided alternative hardware until the delayed material arrived. The quality they promised did not disappoint. I am delighted with the end result, as I have a beautiful functional kitchen that flows seamlessly with my quirky home.
It was my first ever experience in house renovation when I engaged with Kitchenvision to design my kitchen. Kate was fantastic to deal with and made the process of designing the kitchen and choosing the look and materials so easy. I love Kate's vision and enthusiasm for her work. I actually loved the look of the kitchen Kate designed for us so much I carried on the look right through our house. Kate also designed the bar area in our dining room, entertainment unit for our main lounge, the main bathroom and master bedroom ensuite, walk in wardrobe, linen cupboard, entrance cupboard and bedroom wardrobes. We are so happy with what Kitchenvision has delivered.
Kitchen Vision, a well-established North Shore company was recommended to us by a friend. On our first visit Nigel welcomed us and discussed our intentions. On his recommendation we met with Ally and gave her a brief idea of the style we wanted to achieve with the limitations of budget and space we were working with. A few days later Ally gave us concept drawings. From these drawings we immediately knew that Ally had listened and had come up with a thoughtful and creative design that reflected just what we were looking for. Ally is a skilled and creative, friendly and caring designer who clearly wanted the best for us.
From the design process to the final instalment, skillfully completed by Steve, Ally and the team at Kitchen Vision have been a pleasure to work with. Nothing was ever a problem and they all went beyond the call of duty to ensure we were completely satisfied. We are delighted with the end result and have happily referred our friends to them, knowing that they will be well looked after.
We arrived at Kitchen Vision after initially getting a concept drawing from another company, and following a recommendation, and found they were a perfect fit for us. You get the feeling the whole company is involved and committed to your kitchen design, build and implementation. Ally, our designer, made it very easy for us to bounce ideas around and provided good constructive suggestions all the way through rather than just drawing up what we had in mind. She never complained, despite us making a number of significant changes. Nigel the owner is very approachable and gave invaluable additional advice.
The workshop produced a faultless product that looks amazing. Steve was a true professional doing the install and a pleasure to work with. We are thrilled with end result and wouldn't change a thing.
We recently employed Kitchen Vision to design and install a kitchen in our townhouse. From the very start of the process to the very end we were thrilled with the service, workmanship and professionalism of this company. We worked with a superb designer (Ally) who was so skilled at listening to our requests and then using her expertise perfected the design for us. Nothing was too much trouble for the team at Kitchen Vision. They kept their promises with dates and prices and the quality of the Kitchen is excellent and we would HIGHLY recommend them to anyone contemplating a new kitchen. Thank you to the team at Kitchen Vision we are thrilled with what you created for us. Best!
We wholeheartedly recommend Kitchen Vision without reservation to other prospective customers. From the initial design, pricing and advice stage in their showroom through to final completion their directorial staff and installation team were reliable, thoughtful and delivered quality cabinetry and related items. They also demonstrated a high level of workmanship and outstanding customer service. It was a such a pleasure to engage with a company that has total pride in its work.
We would like to express our appreciation to the whole Kitchen Vision team for a job well done. But, specific thanks to Jason for listening to our needs and ideas and transforming them into a great design at a reasonable price; to the manufacturing guys for creating a precision product; and, last but not least, to the tireless Steve for a brilliant job of installation. Happy to recommend to anyone. Cheers.
We had our kitchen completely remodelled by Jason at Kitchen Vision in July last year. Jason really listened to us during the design process and the plans he drew up were spot on. He made it really easy for us to move forward with a design which is tailored perfectly to our requirements. All of the Kitchen Vision staff we dealt with were very professional and went out of their way to accommodate our requests. The finished product is fantastic and functions so much better than we expected – we feel very spoilt. We would highly recommend Kitchen Vision. Thanks for all your help with the kitchen.